Business Overview

Our brand name "Pro-face" was coined from a combination of professional and interface. We provide a highly user-friendly interface for professionals who work in the industrial automation environment, where operational requirements are stringent. We developed the Pro-face brand of graphic operator interfaces in order to become the "face" of a field noted for its devoted professionals.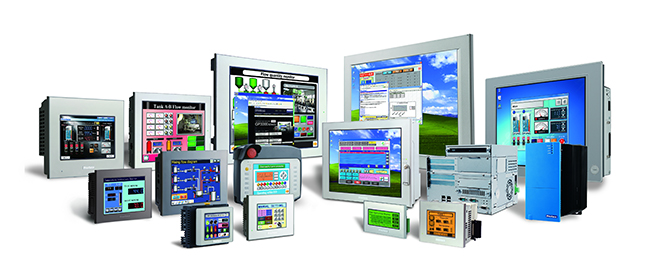 Company History

1972
- Digital Electron Corporation was founded in Osaka, Japan, and started manufacturing and selling electronic equipment.
1974
- Changed the company name to Digital Electronics Corporation.
1980
- Opened the head factory in Osaka, Japan.
1981
- Developed a dedicated computer for a dental office.
1983
- Developed the DP Series, an intelligent programming-free color graphics terminal.
1988
- Established the Nanko Office in Osaka, Japan.
1989
- Developed the GP Series, the world's first programmable display (HMI).
1990
- Started a telephone technical support service.
- Established INDE Electronics, Inc., a development center, in Canada.
1991
- Developed the PL Series, the world's first panel computer.
1992
- The Nanko Office started functioning as the head office in Osaka, Japan.
1993
- Launched the GP-230 Series, the industry's first mid-sized QVGA LCD HMI.
1995
- Established Pro-face Korea Co., Ltd. in Seoul, South Korea.
- Started holiday telephone technical support.
- Launched the GP70 Series, the industry's first HMI with a 32-bit RISC chip.
1996
- Established Pro-face Europe B.V. in Amsterdam, Netherlands.
- Received ISO 9001 certification, the international standard for quality management.
- Developed the industry's first HMI with controller.
1997
- Registered with the Japan Securities Dealers Association as an OTC stock.
- Developed the industry's first Windows-compatible screen editing software.
1998
- Established the Izumi Development Office in Osaka, Japan.
1999
- Entered into a "Windows CE System Integrator" contract with Microsoft Corporation.
2000
- Launched the GP2000 Series, IT HMI, and a new technology which allows for displaying its screens over the Internet.
- Launched the PS Series Panel Computer with Windows CE installed.
2001
- Launched the LT Series, HMI with controller.
- Established Wuxi Pro-face Electronics Co., Ltd. in Wuxi, China.
2002
- Launched "Otasuke Pro!," Pro-face technical support website.
- Entered into a capital tie-up with Schneider Electric S.A.
2003
- Launched the ST Series, small HMI for the market of small-sized graphic operator interface.
2004
- Received ISO 14001 certification, the international standard for environmental management systems.
2005
- Launched the GP3000 Series, HMI supporting multimedia.
2006
- Complied with the European RoHS directive to eliminate hazardous substances on all Pro-face models..
- Upgraded "GP-Pro EX," HMI screen editor software, to support all 3000 Series.
2007
- Opened a sales office in India, as part of a full-scale expansion into the BRIC countries.
- Provided AEDs at all sales offices in Japan and first aid seminars as part of a health and safety campaign.
2008
- Fully introduced corporate social responsibility (CSR) initiatives and "Table For Two" (food assistance) and Eco-cap campaigns.
- Launched the PL-3900T Series, an industrial personal computer with 19-inch screen.
- Received international marine certification for 6 models of the GP3000 Series.
- Joined "Green University of Tokyo Project" organized by the Faculty of Engineering of The University of Tokyo to reduce CO2 emissions from university facilities through visualization with HMI.
2009
- Launched the GP-3300U Series, low-light-reflection, ultra high-brightness HMI.
- Launched the GP4100 Series, compact high-performance HMI.
2010
- Launched "Pro-POP FI", POP (Point of Production) Information management system for Food traceability.
- Launched "DOCTORGP", Diagnosis system in manufacturing.
- Opened "Digital Customer Support Center" to unify all services for inquiries from customer.
- Launched 12.1-inch class of Low Light-Reflection and Ultra-High Brightness Models; Sharp visibility in well-lit locations.
- Launched Wireless Power Monitor; Visualize wasted electricity and save energy.
- Added large, 12.1" display that provides optimal performance in direct sunlight to low-reflectance, high-luminance series.
2011
- Merged with Arrow Co., Ltd., retaining existing company name of Digital Electronics Corporation.
- Opened further two Sales offices, "Delhi Gurgaon Office "and "Pune Office", in India.
- Opened Pro-face Singapore Office in Pro-face South-east Asia Pacific area.
- Launched "PS-4000B"; Industrial Built-in Computer, with High-Speed CPU, Newest OS and Interface.
- Launched the programmable GP4000 Series display, which uses up to 84% less power than previous Pro-face models.
2012
- Launched the industrial computer PS4000 Series.
- The 40th year in business
- Launched the EZ Series that connect to programmable HMI via a USB connection and allow setting changes on HMI.
2013
- Launched Pro-face Remote HMI, production site remote monitoring software for smartphones and tablets.
- Cumulative sales of HMI in the world exceeded 3,000,000 units.
- Launched the LT4000M Series, a modular-type HMI + Control that can be installed in a ø22 mm circular hole.
2014
- Opened a Pro-face Indonesia office in the Indonesian capital Jakarta.
- Launched "PE4000 Series"; an embedded industrial computer, 60% smaller by volume than the previous ones.
- Launched the new interface terminal, SP5000 Series.
- Relocated our head office to Kitahama, Osaka City.
2015
- Launched "SP5000 Series", Wireless LAN model.
- Launched "PS5000 Series", the highest performance industrial PC.
2016
- Launched compact high-performance HMI, "GP4100 Series", color display model.
- Launched full lineup of "PS5000 Series", the highest perfomance industrial PC.
- Launched handheld HMI "GP4000H Series"